Coming home after a long, hard day and putting on a pair of cosy slippers is one of the most satisfying parts of any evening. And with winter looming, it's crucial to have a pair of slippers in your wardrobe.
So, in order to help you choose the perfect pair, we have created this guide, designed to tell you everything you need to know when buying a pair of slippers.
Reasons to wear slippers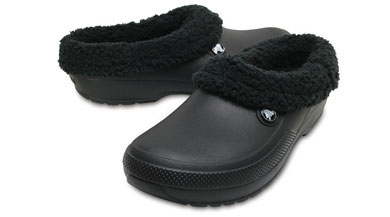 Aside from the fact that slippers are comfortable, they also help to keep your feet warm on those frosty evenings. This is especially helpful if the majority of your household has wooden flooring, as it can get particularly chilling in the winter time. They also help you to walk around the house more quietly, so if there are other people sleeping, you won't disturb them.
You don't just have to wear slippers in the winter though, which is why there are a great number of options that allow airflow in the summer. They are much better than you walking around barefoot because they keep you protected from stepping on objects or stubbing your toe on a piece of furniture.
A lot of slippers are machine washable so you are able to maximise their quality for much longer if you take care of them properly. They are not outdoor shoes so you don't need to worry about mud and dirt being an issue, but wear and tear is inevitable with any footwear that's worn regularly.
Different styles of slippers
There are an assortment of slipper styles that are perfect for any individual. Below we take a look at some of the options so you can see for yourself which one suits your style.
Ankle boots
Ankle boots are about as cosy as they come. They provide total coverage and keep your ankles and toes extra toasty. Whilst a lot of ankle boot slippers are simply slip-ons, they can often come with a velcro strap or tie at the ankle for added support.
Flip flops
Whilst flips flops are not generally considered as slippers, they do often function as a type when worn indoors. These are particularly beneficial in the summer time and are great to wear in the shower for hygiene as well as safety purposes.
Loafers & slip-ons
Loafers & slip-ons tend to be a popular choice among men but women can also be partial to this style. However, in spite of their traditionality, they are far from old-fashioned. Many loafers and slip-ons come in a variety of fabrics and colours that are perfect for any age range and gender. They can have a vintage feel or they can look quite modern - so whatever your preference may be, you are sure to find a pair in this style to suit you.
Rubber slip-ons
If perhaps you have a hectic lifestyle and are always on the go, it might be worth investing in a pair of rubber slippers. These are extremely easy to clean as well as being comfortable. Some even come with a textured insole that massages the bottom of the feet for even more luxury.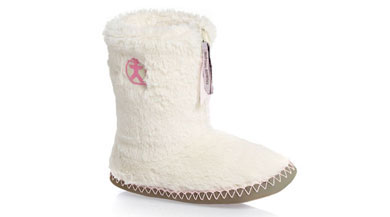 Most common slipper materials
A lot of slippers are most commonly made out of velour, wool or cotton, which is ideal for providing padding and protection. However, other materials that have often been a popular choice are animal skins, which are great if you want a more long-lasting pair.
As previously mentioned, rubber is a brilliant choice for convenience, as it's much easier to wipe down and keep clean. It's also highly durable and resistant to damage from many chemicals.
The material of a pair of slippers is usually a matter of personal preference, and whether or not you want something that's warm, waterproof, easy to clean or extra supportive.
Slipper sizes
Generally speaking, this depends on the style with which you choose. However, slippers should fit loosely and be easy to walk in.
You might notice when shopping that a lot of slipper sizes range from small, medium and large rather than being a particular size. That's why it's a good idea to try a few options to make sure you are choosing the right pair. Small usually fits sizes between 3-4, 5-6 are medium and so on - though this can vary depending on the material and style.
Wearing a pair of slippers is great for everyone, and offer a selection of benefits that maybe weren't so obvious. They are generally inexpensive so they can fit into anyone's price range. In fact, we can't think of any reason not to own a pair!
Here at FootArt your comfort is our number one priority, which is why we offer an amazing collection of footwear that will keep your feet in tip top condition.
Browse our range of slippers today. Alternatively, you can speak to one of our friendly team members who would be more than happy to answer any questions or queries you may have.
We are always on hand to assist all our customers, so get in touch and see what we can do for you.