We have put together our comprehensive sizing and fit guide to get a perfect fit for your Crocs. This includes a full Crocs' shoe size chart and great detailed knowledge of all the different styles and designs. Research how your Crocs are supposed to fit and make the best decisions to help anyone buying women's, men's, unisex and kids' sizes.
Please Note :
The sizing on the bottom of Crocs is the American size so use the above chart to compare it with the UK and EU size to ensure you order the correct size on our website, we show all sizes so you can be sure you have got it right. If you need and help please contact us as we are happy to help.
Crocs offer 3 different shapes/fit options which are linked to the shapes of styles on offer. Clogs shapes tend to be , often have straps and full shoe styles with a high back. So, whether you're a narrow size or wide, you'll find the perfect fit for you. Note there isn't different width fittings within each style just that the shape gives loads of width choices.
Roomy Fit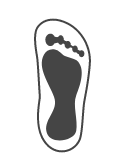 Our roomiest fit, just like our original style
Classic Clog
. Some models include a heel-hugging back strap for more stability.
Our widest fit. Your feet often won't meet the sides.
Generous in length. Your toes shouldn't touch the front.
Roomy across the top for lots of breathability.
Relaxed Fit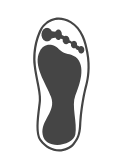 Expect a little room, but a more secure fit than our roomy styles. Some models include laces or straps, but all should feel stable on your foot as you walk.
Slight amount of room around the perimeter of foot. The sides of your feet may occasionally meet the shoe walls.
A secure, yet relaxed fit across the top of your foot.
Wiggle room at the front of the shoe – your toes shouldn't touch the front.
Standard Fit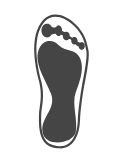 Standard fits offer a more snug (but not tight) fit than our roomy or relaxed styles. They should conform to fit your foot securely with minimal or no slipping as you walk.
Your heel should rest securely and the shoe shouldn't ride up and down.
Sides, top and arch area of the shoe should comfortably hug your feet.
Wiggle room at the front of the shoe – your toes shouldn't touch the front.